This is how we create the; Bitter Sweet Haze
The Bitter Sweet Haze is a real Big Fish boilie in which our secret herbal mix with the real essential black pepper oil are central. The effects of this boilie are phenomenal. The herbal mix that makes even your mouth water has already produced countless big fish. And this is how and why we make it.
Bitter Sweet Haze - Herbs & Spices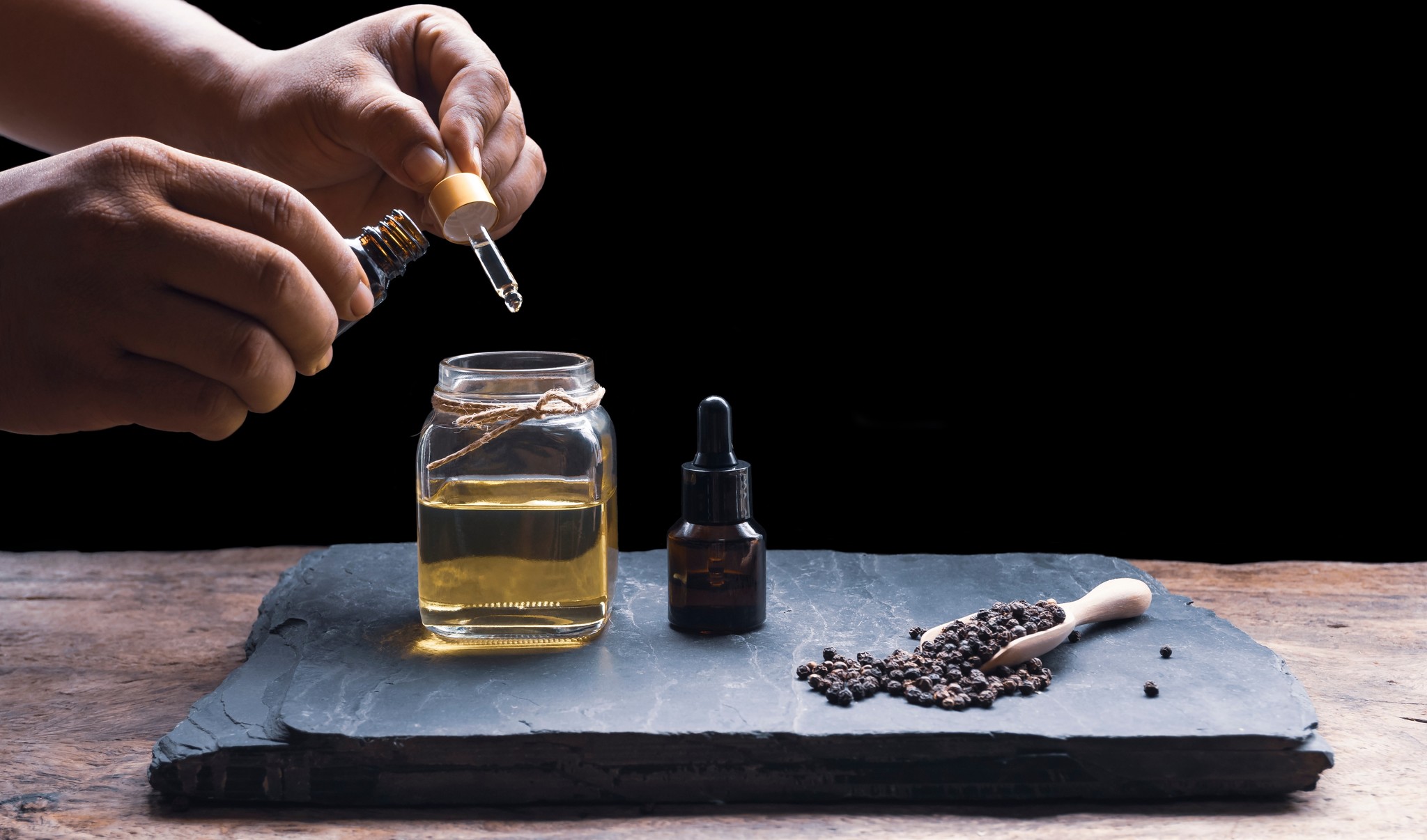 Essential black pepper oil as it is called, is made from dried, unripe harvested green berries. Which turn black or brown during drying. Black pepper oil has several effects on the carp. Firstly, it is very well liked by the carp when you incorporate it into a proper base mix boilie. So adding it to your boilie almost always has added value! The downside, however, is that the dosage must be exactly right to avoid negative effects. In the Bitter Sweet Haze we have the exact right dosage of essential black pepper oil.
Black pepper oil helps against bacterial infections
It has good antibacterial properties that the carp can enjoy without adverse side effects. It is very effective in curing bacterial infections in the digestive system. In spring, the carp are especially vulnerable to bacterial infections - so they can use the black pepper oil well. Therefore, Bitter Sweet Haze is excellent in both winter and early spring.
Stimulates the appetite
Black pepper essential oil has a unique peppery smell, which helps stimulate appetite in carp. Inhaling black pepper essential oil also activates the part of your own brain called the insula orbitofrontal cortex, which aids your swallowing motion. In carp, when they have detected the black pepper essential oil, we almost always see baiting behaviour kick in. As mentioned earlier, it is important that you use the right amount of Essential Black Pepper Oil. If you use too much, it will have a negative effect on carp, and also on your skin. If you use too little, you will make your boilie unnecessarily expensive. Because if you use too little, you will make your boilie unnecessarily expensive. If the content is too low in a boilie, it will have at least 60% less effect.
Our 'secret' herb mix
We have spent years researching what carp respond to, and don't respond to. We've been spinning boilies since 1999 - and this herbal mix has stood head and shoulders above the rest all these years. The reason it works so well in this mix is because it compliments the essential black pepper oil. What we can share about our secret spice mix is that carp love it.
4 reasons why you catch more carp on Bitter Sweet Haze
Breaking the mould
The herbal mix of the Bitter Sweet Haze is so unique that most carp don't know it yet. And that makes it unique on a much fished water. It is the most popular bait in our range for French sessions. Older carp, often bigger carp, know the drill - so you're more likely to catch one of the bigger, older carp with the Bitter Sweet Haze.

Healthy, and anti-bacterial 
Especially in spring, the carp is very vulnerable to various bacteria. The Bitter Sweet Haze will accept the carp faster, because the black pepper oil has an antibacterial function. The nutritional values have been formulated to meet all 40 essential nutrients. The carp will therefore continue to eat the delicious Bitter Sweet Haze boilies.

Herbs do not dry out
The herbs of the Bitter Sweet Haze do not dry out. Therefore, your boilie will still smell deliciously spicy even after 100 hours. The smell is always detectable by the carp, even if your bait is in the water longer.

The boilie is based on research
Our herb mix didn't just fall out of the sky. We looked at the specific function of each herb and applied it to our essential black pepper oil. The combination of all this will amaze you when you start fishing with it. In the long run, the Bitter Sweet Haze will simply catch more carp.
The power of a boilie without fishmeal.
Although carp do not need fishmeal or fish oil in their diet, these ingredients have a near-perfect balance of the 40 or so essential nutrients that animals need to be healthy and grow - the same reason that seafood is so good for people.
Fishmeal is a natural and balanced source of high quality protein. As ingredients in aquaculture feeds, fishmeal and fish oil provide essential amino acids and fatty acids found in the normal diet of fish. Fish oil is an important natural source of the healthy omega-3 fatty acids eicosapentaenoic acid (EPA) and docosahexaenoic acid (DHA). These fatty acids are not produced by the fish themselves, but are concentrated in fish further up the food chain from marine phytoplankton (microscopic marine algae and microbes) that do produce them.
Research has shown that other combinations of ingredients can achieve the balance of the 40 essential nutrients. Affordable substitute ingredients for fish meal and fish oil are becoming more common, resulting in a decreasing percentage of these ingredients in farmed fish feeds.
By adding ingredients such as oils from algae, marine microbes or milk proteins, the nutrient requirements of the final product are maintained without reliance on fish oil. The use of mixed oils is still considered too expensive for fish farmers, but very feasible for our boilies.
PH-Neutral
Our complete bait line contains fresh, non-preserved ingredients that we then make into ready-made boilies with a small amount of MPG. We make sure that our baits have a low acid content. Enough to keep for a year, but just the right dosage so you never get a PH swing, no matter how much you feed. The PH-acidification of MPG is broken down again with, among others, water-soluble, hard pieces of lime. This is how we make all the boilies in our range PH neutral.